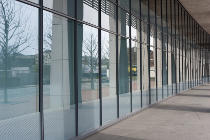 About Us
From Merriam-Webster's Online Dictionary:
Renegade – having rejected tradition : unconventional
Renegade Technologies was founded in 2003 to fill the void for an honest, trustworthy IT consulting firm for Chicago-area homes and small businesses that isn't afraid to examine all options (instead of just conventional ones) when building solutions. That mode of operation allows us to construct solutions that truly fit our clients' needs without breaking their budgets.
In 2010, we started providing managed hosted services with that same level of dedication and now service clients anywhere in the world.
Maximizing your investments
We understand how frustrating it can be to feel tied into one solution that was expensive but doesn't meet all of your needs! To that end, we continually research what the world of computing and telecommunications has to offer so that we can recommend and implement a less-expensive and more effective solution. We help you get the most out of your technology so you can be more productive.
A loyal partner
We also understand how hard it is to find a consulting firm you can trust to do the right job at a fair price. Charging significantly less than we could, Renegade Technologies prides itself on exactly this: being trusted to completely manage your computer and telephone systems & services as you would, using our knowledge and experience in these markets to obtain competitive pricing on technology that is appropriate for your situation. This saves you money and gives you a single point of contact for all of your technology needs, freeing you to do more business.
Please contact us today to find out how we can make things better for you.